After choking at my committee meeting yesterday, I've now sent the email to move us in the direction of switching to a renewable power supplier, so we'll see how that goes.
I have to thank you for being on this mailing list and being a silent accountability partner for me - I can't very well spout recommendations about what we should all be doing to save the planet if I'm not willing to do them myself.
Some stuff that motivated me tonight:
Albania, Iceland, Norway and Paraguay all operate on 100% renewable energy or very close to (Norway is around 97% renewables).
Australia currently receives around 24% of it's power from renewable sources - the majority is from coal. There are lots of energy providers who obtain their power from renewable sources, which is a great option for those of us who don't generate our own power (through solar panels etc).
The combined land area of Albania, Iceland, Norway and Paraguay is less than 1 million kms2, Aus is almost 7.6 million km2, so yes - it's harder to power our big country with renewables than it is to power 4 littler ones.
But... Australia is the largest exporter of coal on the planet - so despite having one of the fastest uptakes of rooftop solar on the planet (apparently 1 in 4 households!), the coal is still enough to set us way back.
Demand for coal around the world will drop as everyone starts to generate their own power. Demand locally will also drop as we start to capitalise on our immense solar, wind, ocean and other renewable capabilities.
To help shrink the demand, we need to do our part and switch providers.
Energy providers who obtain their power from renewable sources are an interim solution for many of us. At some point, Aus will also achieve 100% renewable power, meaning EVERY provider will be a good option and hopefully it'll simply be a matter of price shopping. The traditional "providers" we know now may not even be a thing - who knows.
But until that time, the companies in that link above are the ones we should be doing business with.
In NSW, these are the bad actors you need to switch away from: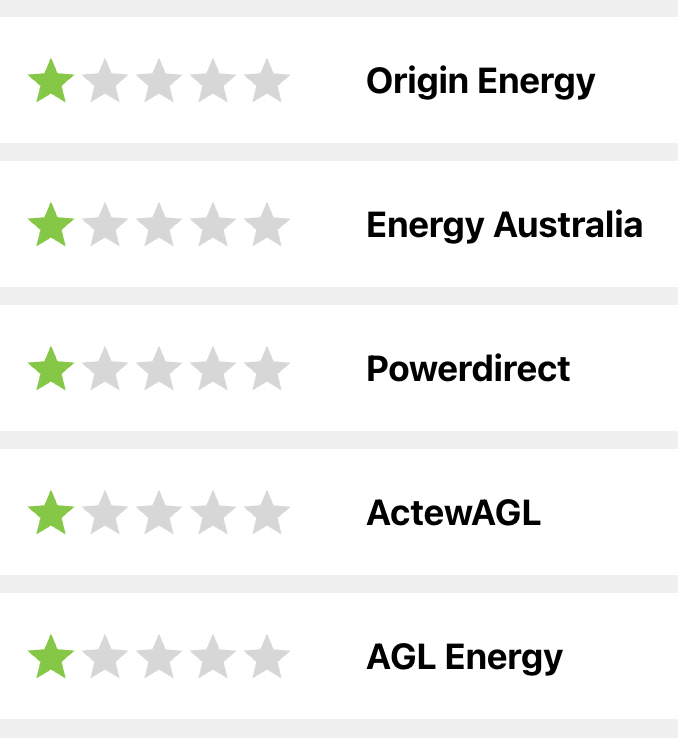 It's tough, especially right now with a huge squeeze on prices. We all need some relief from bills so it's tempting to run with the cheapest option even if it's not an ideal one.
Check that link above for your state's best and worst power options and when you can, make a switch.