This: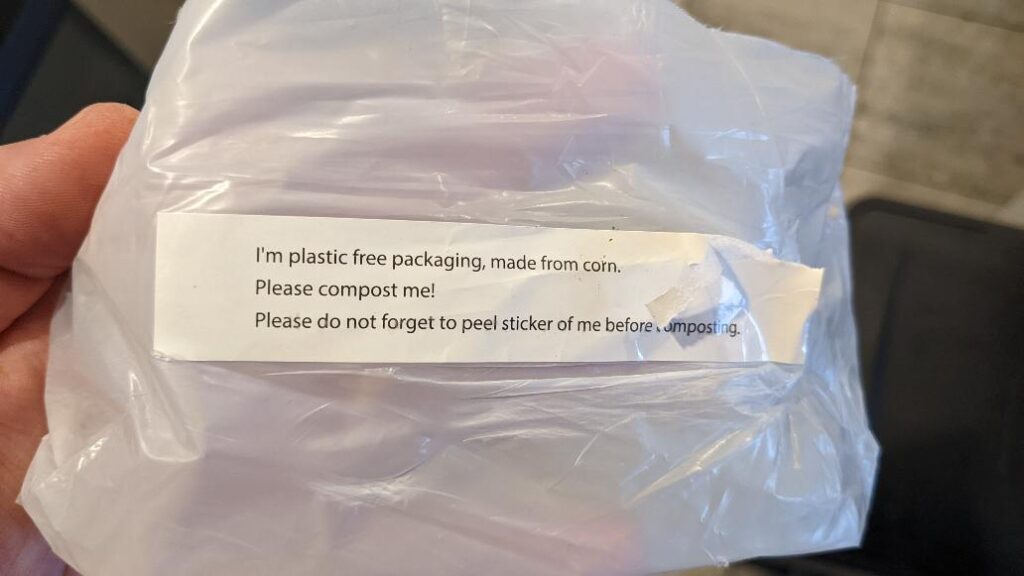 is inconvenient.
(If you can't read it, it says "I'm plastic free packaging, made from corn. Please compost me! Please do not forget to peel sticker off me before composing.")
Don't get me wrong, the product is great and I fully support the corn packaging. This is about the sticker - or more accurately what the sticker communicates about the company.
This was the wrapping around something I bought recently - the sticker is one of those super-sticky ones that just grabs and doesn't come off. You can see on the right where I've tried to remove it.
Now this is not going to break the climate, but the mentality behind it niggles at me. I forget the brand now, but they're basically saying to the purchaser "this is a really good product! Just do these simple but infuriating little things, otherwise none of it works! We'll leave it to you."
Small tweaks make things like this much better, and to me the execution here is only a smidge off really. For one, plant-based ink could be printed directly onto the packaging rather than using a sticker.
I've mentioned the book "Don't Make Me Think" before, which is a book about web design written around 20 years ago that is still relevant today to many areas outside of, and including web design.
The general message in that book is that every step that is a little bit hard for your user, makes the overall experience a very brain-intensive one. By the end of their interaction with your thing, they're more drained than delighted.
By taking the thinking away from each step, you make your thing so easy to use that it becomes an almost flawless experience.